 Award-winning, full-service influencer marketing agency generating qualified leads and sales through authentic influencer relationships, compelling content and creative storytelling.
Influencer Marketing is the Unsung Hero of the 21st Century
At first, the internet made it easier than ever for brands to reach their target audience. Now, it's the opposite. With so much noise out there online, consumers have learned how to sniff out an ad a mile away.
The best way to reach audiences these days is by word of mouth and social proof. People want what other people want, and what other people endorse – especially people they know, like and trust.
Which is where influencer marketing comes to the rescue.
When done correctly, it significantly outperforms old school methods by:

Increasing brand
awareness & consideration

Generating qualified
leads and sales
Converting followers
into paying customers
Building brand loyalty
and repeat purchases
THE PROOF IS IN THE PAYOFF

12.4M
Impressions
540K
Engagements
15,816
Clicks
12.6M
Impressions
223K
Engagements
16.650
Clicks
18.2M
Impressions
663K
Engagements
158
High-converting videos
How do we get these kinds of results?
There are tons of marketing agencies out there to choose from, so why us?
Our 5P Influencer System that's proven to get results for lifestyle brands.

High-touch, premium, done-for-you services focused on performance and driven by data.

We're specialists, not generalists. Influencer marketing is 100% of our agency's focus.

And we're a boutique agency with skills and experience in influencer marketing that rivals even the largest agencies.
Our 5P Influencer System: How it Works
Our proprietary 5P Influencer System is proven to get results.
We cover everything from planning your campaign, to partnering with the perfect influencers, to creating and posting content that converts, to projecting your wins to make sure you massively profit.
Learn more about our 5P System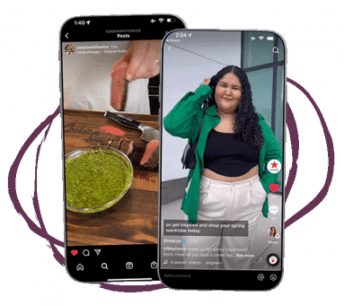 Video content is our agency's focus because it's not only the best medium for capturing and keeping consumer attention on social media, but also the best medium for telling authentic and compelling stories online.
Meet Our Leadership Team of Influencer Marketing Specialists
COFOUNDER
DAN
As a Cofounder of Get Hyped, Dan uses his expertise to design influencer campaigns that maximize authentic human connections.
COFOUNDER
KRISTINA
Kristina is a Cofounder of Get Hyped and a key influencer marketing campaign strategist for the team.
CAMPAIGN
DIRECTOR MARY
Mary is a Campaign Director at Get Hyped and a key point of contact for our clients. Her experience in influencer marketing on both the brand and agency side makes Mary the perfect person to lead client experience at our agency.
We've helped brands in a wide array of industries get incredible results
Free Resources
Get Hyped Blog
Not quite ready to chat?
Snag our FREE Influencer
Marketing ROI Multiplier Model
When you do, you'll get immediate access to:
Our up-to-date influencer marketing Insider Benchmark Report

12 essential influencer marketing KPIs with explanations and measurable goals at each stage of the customer journey

Actionable strategies you can implement today to create sustainable, year-over-year growth

12 influencer marketing strategies that have earned over 100 million organic impressions

Personalized next steps to increase your sales & ROI
Connect With Dan On
Social Media
That's where we regularly post advice, tips and tricks for influencer marketing that you're not going to find anywhere else online.
Sign up for our FREE newsletter so you never miss out on
the latest trends, tips and techniques
for increasing brand awareness and ROI with social media marketing.