When it comes to influencer marketing, Instagram undoubtedly takes the trophy. Food influencers are some of the most admired and ardently followed personalities on the platform.
Delicious-looking food and beverages have been a favorite for content creators and audiences for ages.
Authentic recipes, vegan foods, healthy eating: appealing food has always gripped the attention of the social media audience.
What's more, an increased inclination toward cooking and eating healthy food has propelled food content to become one of the most sought-after niches not only on Instagram, but on all the other most popular social platforms as well.
It's no surprise, then, that the popularity of foodie influencers has exploded.
That's why so many brands are already partnering with them!
Food influencers can be excellent Instagram brand ambassadors for a wide range of businesses, from food manufacturers to food-related apps, health and fitness companies, and many others.
Brands can collaborate with foodie influencers to reach their target audience on social media.
If you're looking to target social media users who are actively consuming foodie content, we've got you covered:
Here's a list of the top 10 food influencers you really want to follow in 2022 to get inspired. We recommend you consider them for your Instagram influencer campaign as well.
Let's get started!
Top Food Influencers You Should Follow on Instagram
For food-related brands looking to maximize influencer marketing on Instagram, it's important to stay up to date on who those top food influencers are.
So here are our picks for some of the top food influencers you can partner with in 2022:
Image Source: Instagram 
Rena Awada is the CEO of Healthy Fitness Meals. She's also a mom of five who's known for her healthy, family-friendly recipes that will satisfy everyone at the table.
She strives to kick the boredom out of healthy meals, specializing in making meals that are more delicious alternatives to traditionally unhealthy ones.
As one of the most followed foodie influencers on Instagram, her widely successful food blog is all about delectable sugar-free, low carb, gluten-free, dairy-free, vegan, and kid-friendly recipes.
Rena has worked with many house-hold name brands like ABC, Blue Apron, Flip Belt, Campbell's, Lipton, and V8, to name a few.
Image Source: Instagram 
Are you up for some authentic Lebanese delicacies? You'll find them all at Feel Good Foodie, founded by Yumna.
Yumna is a popular food influencer on Instagram, and her aim is to make the entire experience of cooking wholesome family meals simple and fun.
Yumna's Instagram feed consists of different versions of classic Lebanese recipes that anyone can cook with ease.
One look at her food pictures, and the drooling will begin (whether you want it to or not!). She also shares plenty of tips, tutorials on ingredients, and equipment recommendations.
Image Source: Instagram 
Next on our list of the top food influencers is Mariam, the founder of Cookin' with Mima.
She takes her passion for food seriously, which has led her to become one of the most followed food influencers on Instagram.
Mima has Lebanese roots, and that's where a majority of her dishes come from. She simplifies the tasty recipes to an extent that even a beginner can give them a try and cook some delicious meals for their families.
Mima's list of clientele includes huge brand names like Google, Blue Apron, Boursin, Dunkin' Donuts, Walmart, and more.
Image Source: Instagram 
Ella Mills is the founder of Deliciously Ella and is among the most influential food influencers and bloggers on Instagram.
She also has a food and beverage company that produces a variety of delicious 100% plant-based and natural food products.
You can also subscribe to the Deliciously Ella web or mobile app and get access to more than 700 mouthwatering healthy recipes, fitness sessions, wellness resources, and much more.
Image Source: Instagram 
Rachel, a mom of four, is passionate about fitness. She's the founder of Clean Food Crush and one of the top influencers on Instagram.
She shares her inspiring story of how she had an unhealthy lifestyle before her kids were born and how choosing a healthy diet has made her life better.
Rachel focuses on sugar-free, vegan recipes that are simple to make and delicious, too. Apart from food blogging, Rachel has also authored a couple of best-selling cookbooks.
Image Source: Instagram 
Tieghan Gerard is the mind and heart behind Half Baked Harvest. Her love for rustic flavors and heartwarming food clearly comes through all her recipes.
She believes that instead of restricting your food intake, you should enjoy natural produce with lots of flavors in a balanced manner.
Tieghan is a best-selling author, and her food and travel website was awarded Best Food Blog in 2016 by Bloglovin'.
Image Source: Instagram 
Michaela Vais, the owner of ElaVegan, ranks among the top food influencers on Instagram. She's an expert in vegan and gluten-free recipes that you can enjoy guilt-free.
She also shares recipes for a wide range of dishes, from your favorite brownies and pizzas to curries; all vegan and sugar-free!
Her vegan recipes are a real treat for everyone, as they are easy to make healthy alternatives.
Along with being a food influencer, Michaela is a food stylist and photographer. Her wonderful Instagram feed is loaded with food pictures that are a treat for your eyes!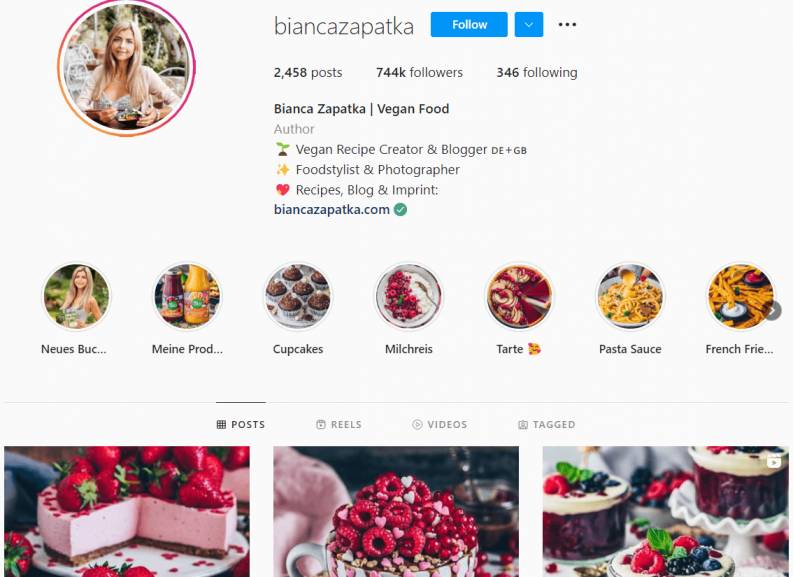 Image Source: Instagram 
Bianca Zapatka, a young foodie influencer, is deeply passionate about vegan and plant-based recipes that do not compromise on taste. She is a food writer and owns a blog by the same name.
She has also authored several vegan cookbooks which are quite popular among her fans. Additionally, Bianca is a popular food stylist and photographer.
Bianca collaborates with brands for a wide variety of influencer campaigns, from recipe development to product placement, giveaways, and event support, making her an ideal partner for your campaign.
Image Source: Instagram 
Gaby is the proud owner of What's Gaby Cooking. For her, food isn't just a passion; it's a profession too! Gaby is a culinary school graduate and works as a private chef.
Through her Instagram feed, Gaby shares delicious recipes and meal plans that moms love.
She encourages her fans to try a variety of simple food recipes that are healthy, easy to make, and wholesome.
Gaby has authored 3 cookbooks and her work has been featured in several leading magazines as well.
Image Source: Instagram 
Michelle Tam, the owner of Nom Nom Paleo, is among the most famous food influencers on Instagram. She is a passionate advocate of the Paleo diet which is all about eating real, natural, and nutrient-dense foods.
Michelle and her husband have personally experienced how wonderful this diet can be and that's where all their recipes come from.
Michelle has authored three best-selling cookbooks and sells a range of spice blends.
FAQs
1. What are food influencers? 
Food influencers, or foodie influencers, are influential food bloggers who have a large number of followers on social media platforms like TikTok, Instagram, and YouTube.
They are an authoritative voice in the food niche on social media and their followers look to them for recommendations.
These personalities use their social presence to advocate for the brands in their niche by creating high-quality content that generates all types of results for their clients like brand awareness, community engagement, and new customers.
2. Who are the biggest food influencers? 
Here's a list of some of the most popular food influencers on Instagram:
Healthy Fitness Meals by Rena Awada
Feel Good Foodie by Yumna
Cookin' with Mima by Mariam
Deliciously Ella by Ella Mills
Clean Food Crush by Rachel
Half Baked Harvest by Tieghan Gerard
ElaVegan by Michaela Vais
Bianca Zapatka
What's Gaby Cooking by Gaby
Nom Nom Paleo by Michelle Tam
3. How much do food influencers make? 
Food influencers generate an income by partnering with brands for promotions. Their rates for promotion vary based on the following factors:
Follower or subscriber count
Amount of engagement they generate
Type of campaign and content
Social platform
Content ownership and licensing rights
A micro-influencer can make anywhere between $100 to $10,000 per partnership or more depending on their sub-niche and content focus. You can also refer to this general influencer rate sheet to get a ballpark idea of what rates to expect.
4. How do I become a food influencer? 
The journey from being a foodie to a food influencer can be a long and demanding one! Here are some important steps:
Choose an appropriate and unique name for your food blog
Create an Instagram creator account and optimize your profile
Post stunning photos and videos of your food creations
Interact regularly with your followers to add value
Collaborate with other brands in your niche to help each other grow
5. How do I find a food influencer? 
You can follow these methods to find the most suitable food influencers for your campaign:
Search on Google
Search on Instagram using hashtags
Search by location and niche
Analyze your competitor's influencer partnerships by looking at their tagged posts
Use free or paid influencer marketing search tools
Hire an influencer marketing agency that's experienced in the niche
Are You Ready to Collaborate with the Top Food Influencers of 2022?
That sums up our list of the top 10 food influencers for 2022. Food influencers are charismatic, generate high-quality content, and are passionate about their food!
Brands can leverage the power of food influencers to run highly-effective influencer marketing campaigns and garner visibility, leads, and more for their business.
However, finding influencers is only a part of the process. The rest of the influencer marketing campaign process comes with many other challenges.
If you get stuck and need help, get in touch with our seasoned team and we'll explore partnerships with food influencers together.