Although fashion micro-influencers have less followers compared to mega and macro-influencers, they've got a huge advantage: their audiences are more likely to take action on their posts.
Why?
Because they are more engaged.
A smaller follower base means that micro-influencers are able to connect with their audiences at an individual level. And they do!
According to Later and Fohr's influencer marketing report, nano and micro-influencers have the highest engagement rates across all influencer scales.
Image via Later
With nano-influencers being inexperienced with brand partnerships and having less than 10,000 followers, Instagram micro-influencers are the best pick for many fashion brands that aim for a wider reach with high ROI, community engagement, and quick results.
So if that sounds good and now you're looking for a list of fashion micro-influencers to choose from, you've definitely come to the right spot.
Let's dive in!
Top 16 Fashion Micro-Influencers
Here are the top 16 fashion micro-influencers in 2022.
Image via Instagram
Gvantsa is a Delaware-based fashion micro-influencer who flaunts minimalist yet unique styles.
Her Instagram feed has a clean, fresh, and eye-pleasing feel which intrigues her many followers. With her quiet yet incredibly present confidence, she makes minimalist styles look fantastic. This is perhaps why she's one of the best fashion micro-influencers out there.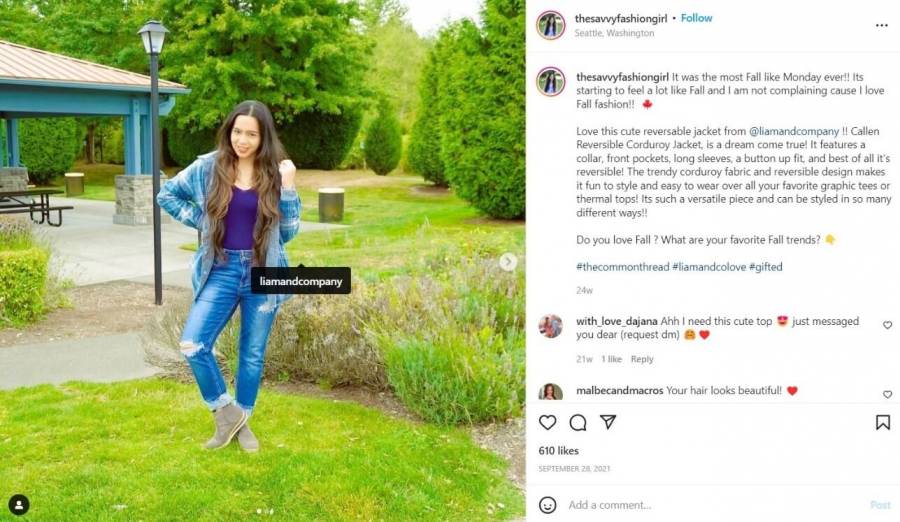 Image via Instagram
Say hi to a Seattle-based fashion, beauty, and lifestyle micro-influencer, Gurneet Chhabra.
Chhabra flaunts her authentic life as a working mom, and her Instagram profile shows how she proudly strikes a balance between comfort and style.
Gurneet also has a blog where she shares fashion ideas and talks about life as a working mother. Her content is extremely popular among her followers making her one of the best fashion micro-influencers in the industry.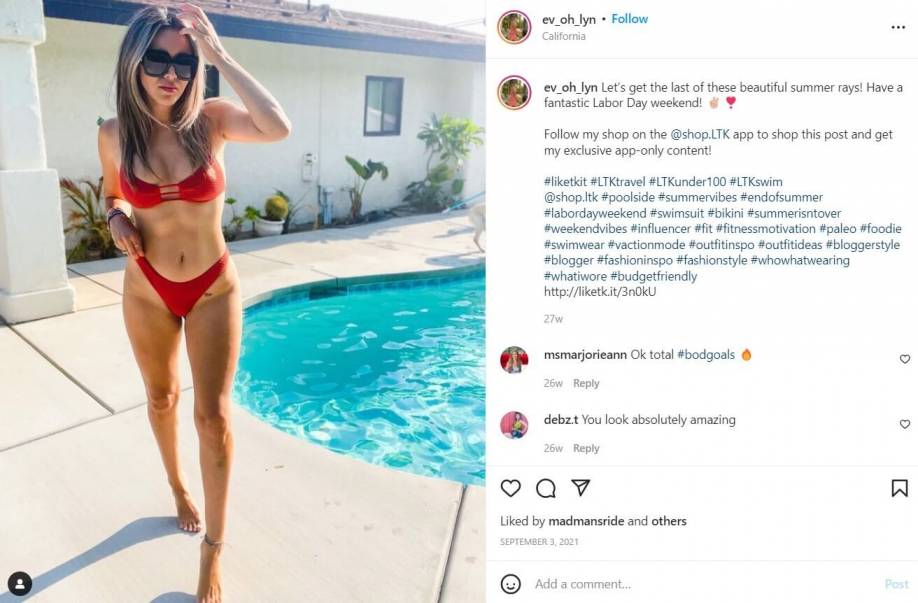 Image via Instagram
Evelyn mesmerizes her followers with her striking looks and attractive outfits.
Her story is quite interesting (see for yourself!). It's one of the things that makes her one of the best fashion micro-influencers out there.
Thin most of her life, her body started to change after having kids. That's when she got self-conscious and started hitting the gym to get in shape. A good transformation story will always keep followers' eyes on an influencer, and Evelyn tells her story in an unique way!
Image via Instagram
Bachelor Canada Season 3's participant, Mikaela documents her travels and adventures on her Instagram feed.
She regularly posts style and fashion recommendations and sometimes promotes fashion brands as well.
Most of her promotions, however, are about outfits she wears on her travels. Mikaela frequently travels back and forth from Canada to California and has collaborated with global brands like Bikini Village, H&M, and Macy's among others.
Image via Instagram
Arianne Witt is an Australian micro-influencer interested in creative styling. She frequently posts content about fashion, lifestyle, beauty, and music.
One thing that really makes her one of the finest micro-influencers out there is the fact that she posts truly authentic content on a regular basis.
She has promoted brands like H&M, Status Anxiety, ECCO Leather Goods, and more.
Image via Instagram
Gabriela is a Brazilian who lives in New York City, and her particular way of flaunting fashion is exquisite.
You'll see it throughout her Instagram profile: the styles and shots are all perfect.
She promotes everything from maxi dresses to lingerie, beanies, jeans, boots, and coats.
As a full-time mom, she also showcases her life as a mother through her Instagram account. So far, she's partnered with several fashion, beauty, lifestyle, and travel brands.
Image via Instagram
Having promoted brands like French Connection, Verishop, and Abercrombie & Fitch, Tayla Santos is a style blogger for everyday outfits. She's one of the best micro-influencers of color that you'll definitely want to consider partnering with.
She's active on other social media platforms too, including TikTok. Especially given her small number of followers, she has a tremendous rate of engagement and likes per post.
Image via Instagram
Alli Schapal is one of the best NYC-based fashion micro-influencers on the scene who focuses on the luxury fashion niche.
She's made deals with CALI DREMIN, Victoria and Woods, lexTHElabel, and more in a very short period, making her one to watch. Apart from fashion, Alli shares a glimpse of her life on Instagram Stories regularly. This has helped her build a powerful connection with her audience.
Image via Instagram
A Brussels-based cabin crew member turned micro-influencer, Valentin Bruneau focuses mostly on streetwear fashion. His casual clothing collection finds many viewers, playing a major role in helping him become one of the best micro-influencers out there.
In the past, he's collaborated with brands like La Boutique Officielle, Plugaholic, Be Gentlemen's Store, Pull and Bear, and more.
His Instagram posts are primarily about modeling, fashion, and men's lifestyle.
Image via Instagram
Alexis Montgomery is an Orlando-based fashion, lifestyle, and food blogger who loves creating content around her daily life.
Her unique way of documenting her life as an influencer from the most glamorous of  angles has won her collaborations with several brands, including ColourPop, SHEIN, and Nasty Gal.
From swimsuits to fashionable dresses, she spots a wide variety of outfits and serves as an inspiration for her audience. She's also one of the fashion micro-influencers out there who's willing to work with custom promo codes.
Image via Instagram
Diego León has a classic menswear fashion Instagram handle where he shares his thoughts on fashion, brands he loves, and tips for buying menswear.
His Instagram profile indicates that he's into elegant menswear, rendering him perfect for influencer marketing for classy menswear fashion outfits.
He also writes regularly on his blog. Diego has partnered with brands like Amazon Fashion, Timberland, and others.
Image via Instagram
Based in NYC, Nana Agyemang is a social media editor for both The Cut and New York Magazine.
One of the best fashion micro-influencers on Instagram, she's also the CEO and founder of Every Stylish Girl, a directory and community that aims to advance career opportunities for women of color in fashion, media, and business.
Her advocacy for inclusiveness has won her deals with renowned brands like Raw Sugar Living, Shopbop, and Everlane.
Image via Instagram
Lauren Caruso is a freelance fashion editor in LA. From grunge to sexy and exotic, she focuses on various fashion styles, and her Instagram account is the evidence.
She's worked with brands like Burberry, Levi's, Club Monaco, La Mer, Farfetch, Marc Jacobs, and more and has a big hand in driving their sales. What cements her credibility as one of the finest fashion micro-influencers even further is the fact that she's a creative consultant in LA.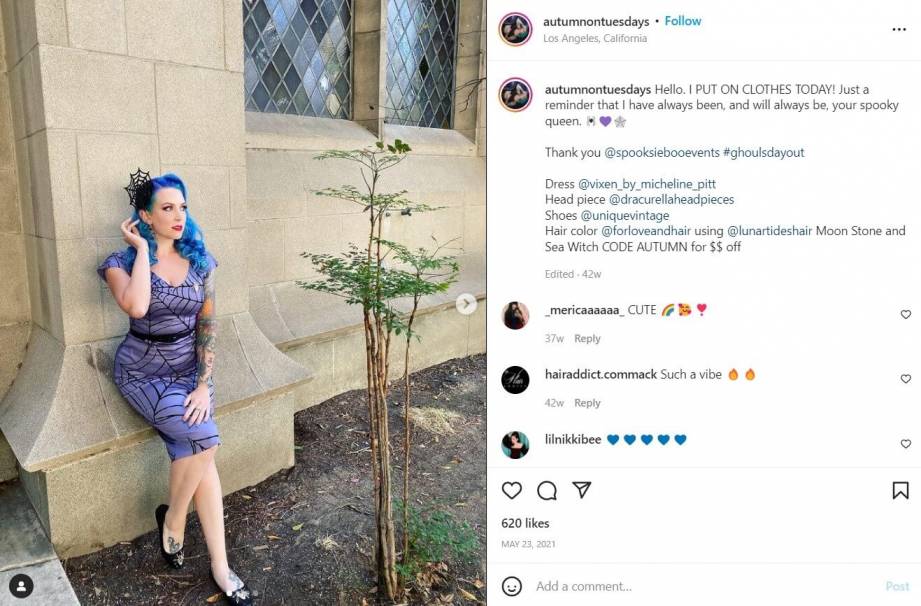 Image via Instagram
Also known as Autumn Brooke on Instagram, Autumn Skibinski is a hair and makeup artist in Los Angeles.
She loves dressing up and flaunting her stylish wigs and fashionable outfits.
She has her own beauty brand named Beauty by Autumn, which she promotes by sharing photos of happy customers. Especially if you're looking to promote your brand in LA, she's one of the best fashion micro-influencers to work with.
Image via Instagram
Emma Seville has partnered with brands like Ardene Jewelry, Rebecca Minkoff, Princess Polly, and more.
She's a YouTuber and frequently posts content related to her lifestyle on her social media handles, including Instagram and TikTok.
What makes her one of the best fashion micro-influencers around is the fact that she ensures that her audience can shop her looks with a few clicks.
Image via Instagram
Marie Denee, aka Curvy Fashionista, is one of the best curvy fashion micro-influencers in the US fashion industry. She's a fashion blogger based in Atlanta, Georgia.
Marie has contributed her expertise on curvy fashion trends and tips to several publications, such as Signature 9, Seventeen Magazine, Vogue Curvy, Examiner.com, and many others.
Additionally, she's been a fashion and style editor at PLUS Model Magazine. Finally, she has a blog where she celebrates the plus-sized woman's uniqueness and beauty.
FAQs
1. Who is considered a micro-influencer?
Micro-influencers are those social media personalities who have a follower count between 10,000 and 100,000.
2. Who are the most important fashion micro-influencers to watch?
Some of the top fashion micro-influencers are:
Gvantsa Ivanishvili
Gurneet Chhabra
Evelyn
Mikaela Wightman
Arianne Witt
Gabriela
Tayla Santos
Alli Schapel
Valentin Bruneau
Alexis Montgomery
Diego León
Nana Agyemang
Lauren Caruso
Autumn Skibinski
Emma Seville
Marie Denee
3. How are influencers categorized?
Based on their follower count, social media influencers are categorized into 4 types:
Mega-influencers – 1M+ followers
Macro-influencers – 100k – 1M followers
Micro-influencers – 10k – 100k followers
Nano-influencers – 1k- 10k followers
4. How can I find micro-influencers on social media?
The most popular ways of finding micro-influencers on social media are:
Using hashtags to find accounts that share content related to your business niche.
Collaborating with influencer marketing experts like Get Hyped to simplify the process
Leveraging influencer discovery tools
5. How much should I pay a micro-influencers?
Micro-influencers can charge between $100-$10,000 per post depending on the size of their audience, level of engagement, and niche.
Ready to Collaborate with Fashion Micro-Influencers?
As social media influencers gain increasingly more trust from their audiences, influencer marketing becomes even more attractive for fashion brands.
To launch your influencer campaigns, you can get in touch with these fashion micro-influencers and push your campaigns to the front of the race.
However, collaborating with fashion micro-influencers requires significant knowledge of influencer marketing best practices and KPIs. Without this, you might not get the desired results from your campaigns.
Get in touch with us to kick-start your fashion influencer marketing campaign!