Looking for the latest influencer marketing trends to keep your influencer campaigns relevant and on-point?
You've reached the right place.
In this post, we'll walk you through the eleven biggest influencer marketing trends to watch in 2023 and beyond.
These trends will ensure that your influencer marketing campaigns resonate with what the audience wants and are one step ahead of your competitors' campaigns.
Ready to find out what these trends are?
Here we go.
Influencer Marketing Trends to Watch Out For in 2023
From new creator marketplaces and artificial intelligence to micro-influencers and the rise of nano-influencers, these are the influencer marketing trends that will help you get ahead in 2023
1. Rise of Long-Term Brand-Influencer Collaborations
Brands are preferring more long-term associations with influencers in 2023. These are coming in the form of multi-post agreements, brand ambassadorships, and upfront compensation with affiliate compensation.
Long-term partnerships are one of the most prominent influencer marketing trends for 2023.
What's the reason for this shift?
It's simple—one post is never enough to drive significant sales and, for most products, it takes a long time with many touchpoints for even the most trusted influencers to convince people to buy something.
It's in your best interest to avoid one-off projects and build a community of influencers who promote your brand on an ongoing basis. Turning influencers into brand ambassadors is the secret sauce for influencer marketing!
Daniel Wellington, for example, has long-term collaborations with several influencers who promote the brand on a regular basis. The brand's Instagram page is filled with posts of social media influencers showcasing their watches.
Here's an example.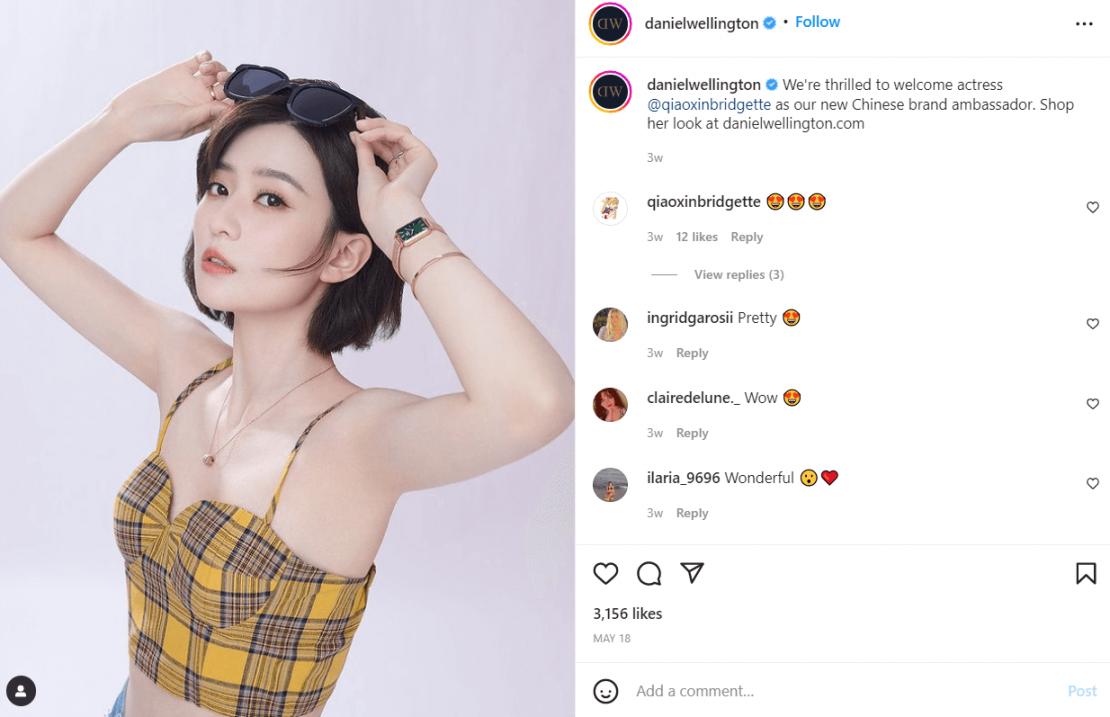 Images via Instagram
If you check out the Instagram accounts of any of these influencers, you'll find multiple posts promoting the brand over time. Here's an example of one such post by Qiaoxin Bridgette (the influencer featured in the image above).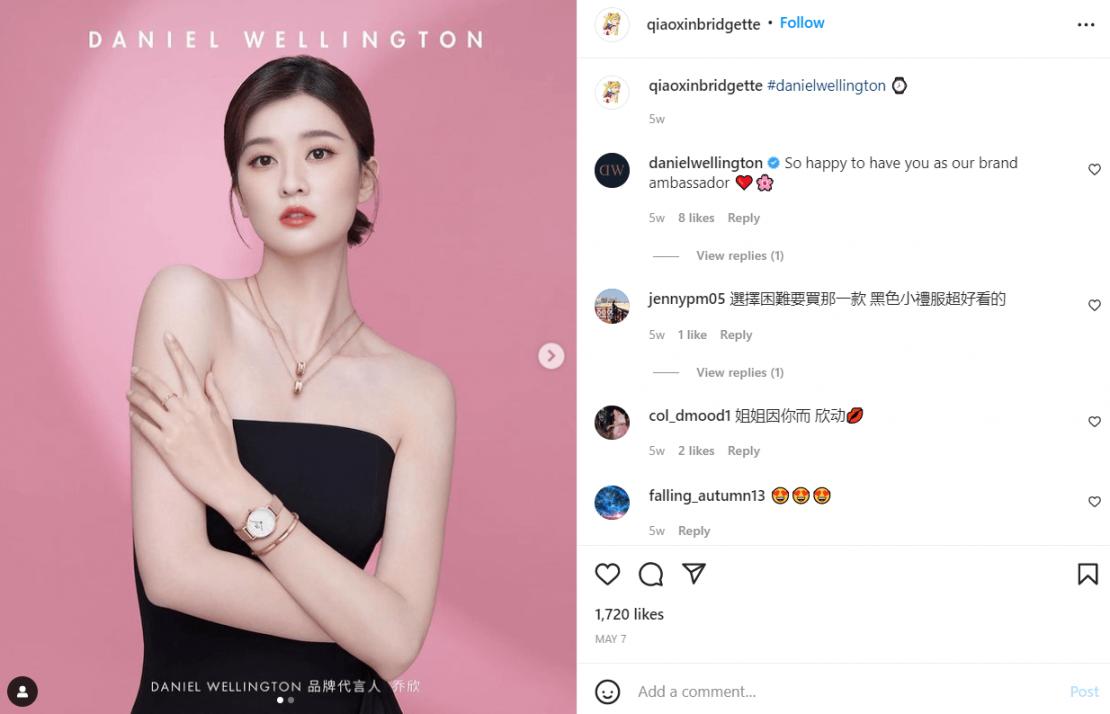 Image via Instagram
So, build long-term influencer relationships to get the most out of your influencer marketing efforts.
2. Increased Focus on Diversity and Inclusion
Our society is gradually evolving and becoming more inclusive of the traditionally marginalized communities. And when there's a massic societal and cultural shift, it affects how brands connect with consumers.
One of the more prominent influencer marketing trends of 2023 is an increased focus on diversity, inclusion, and representation.
Brands are consciously collaborating with influencers of different religions, colors, body types, and sexual orientations.
Dove, for example, is a brand that's making great strides in this area. It partners with a diverse range of women influencers and is keen on shattering traditional beauty standards. Here's a look at the brand's Instagram feed, which speaks for itself.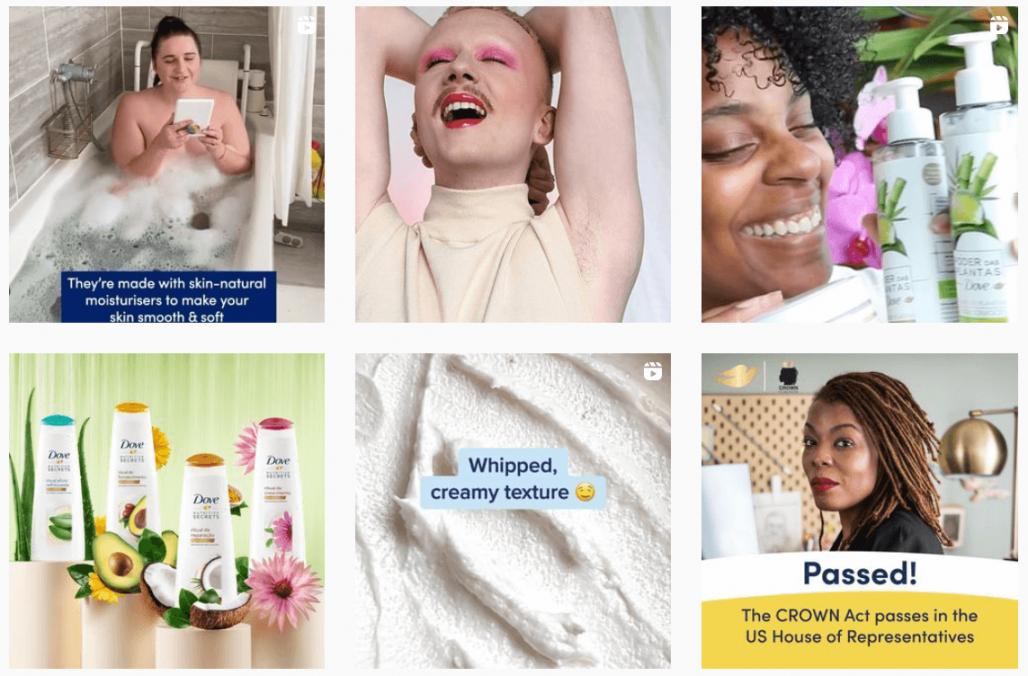 Image via Instagram
How can you embrace this trend?
Work with a range of influencers to connect with your different target customer segments. Instead of collaborating with one celebrity influencer, work with a group of influencers of different ethnicity, sexual orientation, gender, etc.
And that brings us to the next trend on our list of top influencer marketing trends for 2023.
3. Growing Popularity of Nano and Micro-Influencers
We know this is not a new trend, but the popularity of nano-influencers and micro-influencers is still on the rise in 2022. That's why we've included it on our list of top influencer marketing trends this year.
But why are these influencers so popular?
Here are a few reasons why:
Smaller influencers (nano influencers and micro-influencers) generally have a more engaged and loyal audience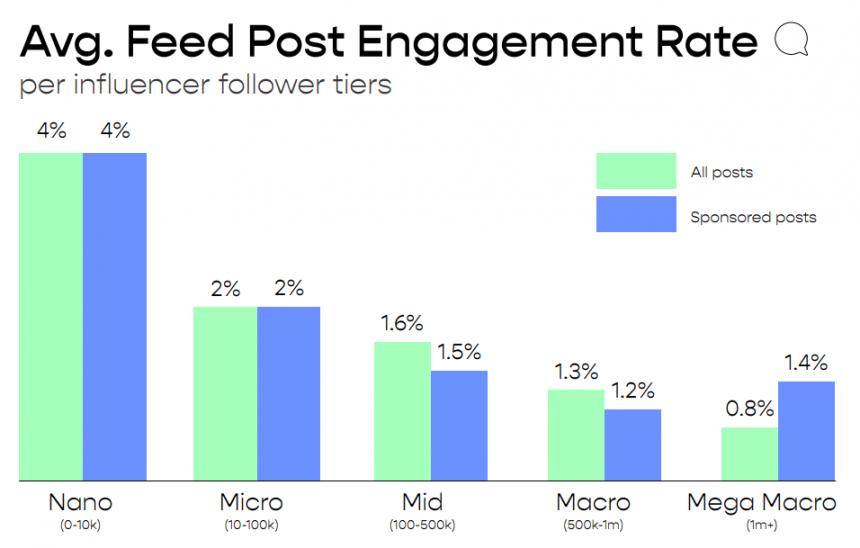 Image via Later
They are more cost-effective than celebrities and mega influencers

Image via Later
Niche influencers can help you reach highly-targeted audiences
Smaller influencers are considered to be more authentic and trustworthy
It's clear that nano influencers and micro-influencers are great options to drive audience engagement and sales, especially for smaller brands that can't afford to work with larger influencers.
So, find micro-influencers and nano influencers in your niche that are most relevant to your brand and have your target audience as their followers.
Or, if you're finding the process of finding and vetting influencers too challenging, hire an influencer marketing agency to do that for you.
4. Renewed Focus on Authenticity and Trustworthiness
One reason for the rise of nano and micro-influencers is their authenticity and trustworthiness, which is next on our list of trends.
Influencers are continuing to move away from perfectly curated aesthetic feeds to more unfiltered and spontaneous content showcasing their daily lives. This helps a regular person connect with them more and see them as a person they can relate to and trust.
What does this mean for you?
You need to be selective about which influencers you work with and the kind of content they create for your brand. Choose honest and trustworthy influencers who have loyal followers who trust their recommendations.
Ask influencers to create content that doesn't seem promotional but looks like the native content on social media platforms.
Check out this Reel by the Instagram account run by the mother-daughter duo Brittany and Lily.
The video shows Lily opening a package from Cape Shark. They casually mention the brand in the caption without being promotional. To any of their followers, this video looks the same as any other post on their channel.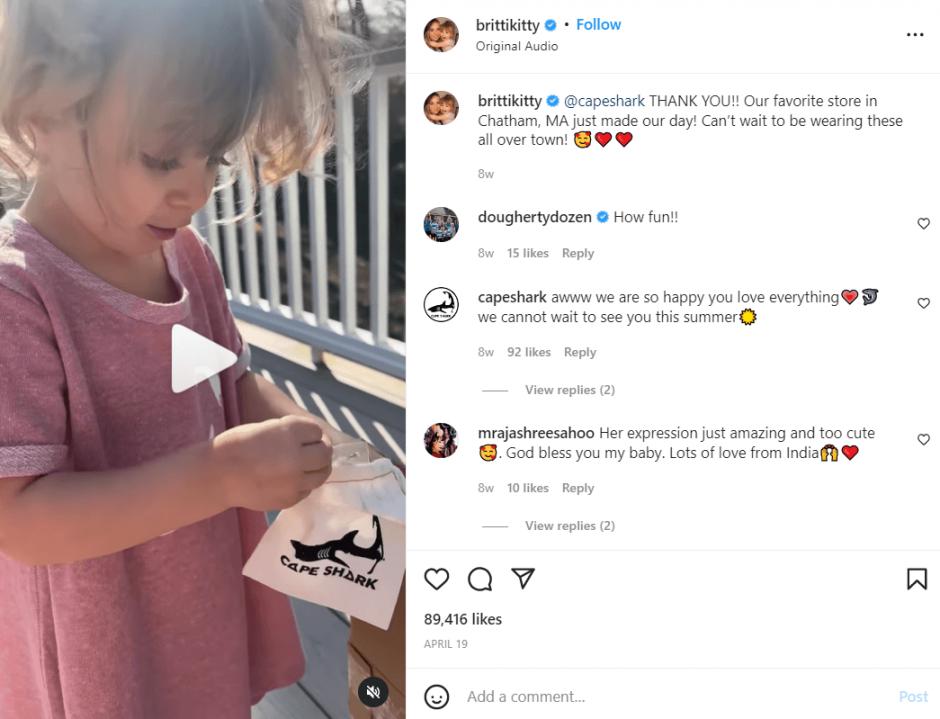 Image via Instagram
Doesn't it make you want to order some goodies from Cape Shark for your kid?
Well, that's the power of authentic influencer-generated content and that's why it's one of the biggest influencer marketing trends this year.
5. Continued Popularity of Video Content
Video content rules social media, thanks to the introduction of features such as Stories, Reels, Shorts, and Live videos.
It's no wonder that the rising popularity of video content is one of the top influencer marketing trends on our list. If you're not yet leveraging the full power of videos, then it's time you start doing that.
Here are a few tips to get you started:
Use multiple video formats including Reels, Stories, in-feed posts, Shorts, TikTok, Live, etc.
Give creative freedom to influencers to create authentic and engaging video content for your brand.
Ask influencers to create different types of videos, such as unboxing videos, tutorials, how-to videos, etc.
Share influencer-created videos on multiple social media platforms to boost your influencer marketing ROI.
Use these tips to include videos in your influencer marketing strategy and get better results from your influencer marketing efforts.
6. Employees are the New Influencers
In 2023, brands will capitalize on one of the biggest influencer marketing trends—using employees as influencers.
More and more brands are realizing the potential of using their employees as influencers to promote their brand. Employees are more likely to be trusted as they work for the company and have information that influencers generally don't.
Think about it. Wouldn't you trust an employee talking positively about their brand over an influencer who's just being paid to do so?
Macy's, for example, encourages its employees to promote in-store events, products, and ongoing offers. All its employees use the hashtag #macysstylecrew for their social media posts promoting the brand.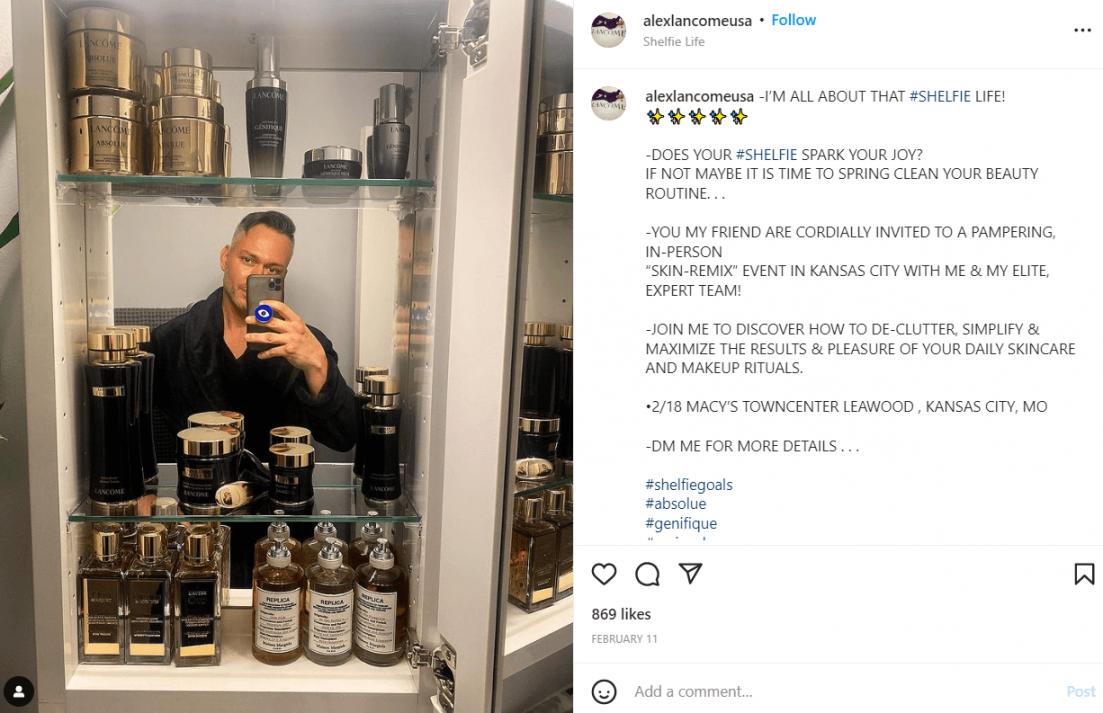 Image via Instagram
The key, however, is to create an environment in which your employees want to promote your brand. You shouldn't force them to do it, and you want to provide them with adequate time on the clock for posting on social media as well.
7.Creator-Focused Marketplaces are the Future
Creator-focused marketplaces are fast becoming one of the top influencer marketing trends.
These marketplaces are designed to help brands quickly find the right influencers for their campaigns, making the process of finding influencers easier and more efficient.
TikTok launched its Creator Marketplace in 2021 and was shortly followed by Instagram, which started testing its new creator marketplace in 2022.
Although the Instagram creator marketplace is available on an invite-only basis, the platform makes it easy for brands to establish partnerships easily.
Image viaTechcrunch
The best part about these creator marketplaces is that you can easily get started using three steps:
Register your brand on your desired platform
Create an influencer brief
Look for the right influencers for collaborations
It's important to choose influencers that match your brand values and aesthetic to make your campaigns successful.
Once you've identified the right influencers, start engaging with them and build lasting relationships for future collaborations.
And if you need help with this process, reach out to us, and we'll create an influencer brief for you that's guaranteed to pique the interest of your ideal influencers in the marketplace.
8.Increased Conversations on User-Generated Content
Today, consumers increasingly expect brands to show a more authentic face, and user-generated content (UGC) is vital in meeting this demand.
According to the State of UGC 2023 Report, 61% of marketers said they'd incorporate user-generated content in their influencer marketing strategy in 2023.
And for a good reason.
Consumers trust user-generated content more than branded advertising. This is why many marketers today repost UGC as part of their promotion strategies instead of posting branded content.
However, while working with influencers, there is a noticeable trend of a shift in how UGC is reposted. For instance, creators today prefer being mentioned in the first two lines of the post as opposed to the end.
Here is an example from Later:
Image via Instagram

Notice how the creator is mentioned at the beginning of the post?
It shows how the use of UGC is shifting. People want their content credited above the fold on social media.
The conversation around UGC remains highly debated, but we predict more conversations around it in 2023 and beyond.
Meanwhile, you can still leverage user-generated content as part of your influencer marketing strategy to promote your brand. Remember to use the right hashtags and caption them with a call to action.
9.Increased Uptake in Cross-Channel Promotions
With the increasing number of social media platforms, brands are now looking for ways to leverage multiple platforms to reach their target audience.
As a result, cross-channel campaigns are becoming hard to resist. This trend involves posting content across multiple channels, including social media, microblogs, and streaming platforms.
The strategy helps create an engaging influencer marketing campaign that maximizes a brand's reach and visibility across multiple social channels.
The key to cross-platform promotion success is:
Clearly understanding the channel you want to use based on where your target audience is
Creating content that resonates your target audience
Creating content that's tailored to each channel's strengths
Determining how to measure the success of your campaigns on each channel specifically
For example, TikTok and Instagram Reels videos have comparable content formats. Even though the platforms are alike, each platform's algorithm and demographics react differently to specific types of content.
For example, over the last year or so Millennials primarily used TikTok for entertainment value, but they used Instagram to socialize, obtain inspiration, and get product recommendations. And now that's changing as TikTok continues to become more popular with Millennials and even older generations in 2023.
Some brands collaborating with Instagram and TikTok influencers share the same product in a fun and creative way on TikTok while presenting it in a more aesthetic and informative manner on Instagram.
The easiest way to get started with cross-channel posting is by working with influencers. Their knowledge of their audiences and the experience they bring to the table can help brands take full advantage of their cross-channel campaigns.
10.Use of Data and Analytics to Measure ROI
Another emerging trend we'll see in 2023 is an increased focus on data and analytics.
Marketers want to measure their campaigns' success and quantify the return on investment (ROI). Data and analytics are essential for understanding if your influencer campaigns are successful.
Marketers can initially determine if their campaigns deliver the desired results by tracking data points such as impressions, views, engagements, follower growth, and brand mentions.
And as marketers dig deeper into the data, information such as time on page, number of pages visited, bounce rates, view times and more allow for tracking audience behaviors in extreme detail.
Before you partner with an influencer, it's essential to understand their audience demographics.
Analytics tools can help you track and measure influencers' marketing ROI in real-time. Creator marketplaces often offer these analytics tools. You can also use third-party sites such as Analisa.io to analyze an influencer's reach.
Here is an example of Will Smith's influencer analytics:
Image via Analisa.io
From the analytics on the image above, brands can tell the engagement rate, the demographics of the audience, and the authenticity of Will Smith's audience.
You can use these data points to decide whether you can use Will Smith to promote your product or choose another influencer.
In short, data and analytics help you optimize campaigns for better performance and scale up the most successful ones.
This is what most brands will likely focus on going forward as they can tell whether they are receiving any value from partnering with an influencer.
11.Live Shopping Will Play a Big Part in Influencer Campaigns
Live shopping has become a major player in the influencer marketing game.
In 2023, it is expected to play a more prominent role in influencer marketing as brands look to capitalize on the event's real-time engagement and purchase capabilities.
Given that live video streaming is the 4th most popular type of content worldwide, it presents a perfect opportunity for marketers to drive sales and increase ROI in influencer campaigns.
It allows influencers and brands to share real-time product or service information with their audience. This gives viewers a chance to learn about the brand and also allows them to make purchases directly from the influencer's content.
Various platforms, including Instagram, Facebook, TikTok, and Amazon, offer live-stream shopping tools and partnerships. Here, influencers work with brands to host live streams such as product reviews, how-to tips, and unboxing videos.
This is bound to get big in 2023, especially since live online shopping revenue is expected to reach $35 billion in the United States by 2024.
As such, live shopping is one of the major influencer marketing trends and an area of growth which you can test in 2023.
FAQs
1. Is influencer marketing in 2023 still effective?
Yes, influencer marketing is one of the most effective marketing tactics. If you follow the latest industry trends or hire an experienced agency to run your influencer marketing campaigns, then you're sure to have success.
2. How influencer marketing is changing in 2023?
It's continuously evolving and moving away from celebrity endorsements to more authentic brand promotions from smaller influencers. Most of the latest influencer marketing trends point to the shift towards the rise of smaller, diverse, and more authentic influencers including nano, micro, mid-tier, and macro influencers.
If your brand can't afford to work with mid-tier and macro-influencers, then nano and micro-influencers can be a great start. They are just as effective when strategic partnerships are set up correctly.
3. What are the biggest influencer marketing trends for 2023?
Here are the biggest influencer marketing trends to watch out for in 2022:
Rise of long-term influencer and brand partnerships
Increased focus on diversity and inclusion
Growing popularity of nano and micro-influencers
Renewed focus on authenticity and trustworthiness
Continued popularity of video content
Employees are the new influencers
Creator-focused marketplaces are the future
Increased conversations on user-generated content
Increased uptake in cross-channel promotions
Use of data and analytics to measure ROI
Live shopping will play a big part in influencer campaigns
4. What will be the future of influencer marketing?
The influencer marketing industry is expected to grow with new brands focusing more on smaller influencers due to their affordability. Big brands focusing on mid-tier and macro influencers from diverse backgrounds with audience trust.
5. What are the most important influencer marketing trends for small businesses?
Working with authentic and trusted influencers is the one influencer marketing trend that all businesses should follow in 2023 and beyond.
Ready to Embrace the Latest Trends?
Keeping up with the latest trends is crucial to the success of your influencer marketing campaigns.
Embrace the influencer marketing trends listed in this post for your next campaign and achieve great results from influencer marketing.
Need help improving your influencer marketing strategy, scaling, or backend campaign execution?
At Get Hyped, we specialize in designing and executing data-driven influencer marketing campaigns. Get in touch with us and we'll ensure the success of your next campaign.