Instagram is big on beauty and fashion influence, which makes it a great platform for skincare brands. If your brand has been struggling online or you just need a wider reach, skincare influencers on Instagram might just be your best bet.
Wondering why?
Let's find out.
Why You Want Skincare Influencers on Instagram
Influencers create a relationship with their audience based on trust and loyalty. Brands can harness that relationship to help grow their reach and engagement.
The clout that skincare influencers have with their audience can also be harnessed to drive sales.
Skincare is a sensitive topic for most, so having a knowledgeable and trustworthy influencer on your side can go a long way.
With influencer marketing, you'll do more than widen your scope: you'll build a community and loyalty around your brand.
Influencers on Instagram earn the trust of their fans over time by creating high-quality content related to the skincare industry. And this kind of credibility is exactly what your skincare brand needs.
Best Skincare Influencers on Instagram
Ready to connect with your next skincare influencer? Here's a list of some of the best ones out there in 2022.
Image via Instagram
Renée is a vlogger and digital content creator from New York. This self-proclaimed "treasure hunter" is more than just a skincare influencer on Instagram. She's also an incredibly explorative skin enthusiast.
You can tell just how much knowledge and passion she has for skincare from her Instagram posts.
What makes her special is the fact that she explains the details of each product, its ingredients, features, and how she uses them.
When you partner with her, your audience will know things from where to go to moisturize to how to treat flaky skin and everything in between.
Season by season, she shares her skin journey, what she's used, and what works for her.
She's worked with popular brands such as Paula's Choice, Medik8, and Cetaphil.
Image via Instagram
With over a million followers, Jade Marie is both a skincare influencer on Instagram and a holistic esthetician.
Given her medical background in skincare and body health, she takes her audience through all of her in-depth skincare routines. She discusses the ingredients of each product and their benefits as she performs facials and body treatments.
These routines are more than just a passion; they're also rooted in deep knowledge, which adds to her credibility and influence.
Jade also has a YouTube channel with 670k+ subscribers. Here, she treats her audience to lengthier facial routines and series…all with soothing music in the background. Each of her videos has millions of views, an impressively-sized audience to work with.
She's also a makeup artist with years of experience.
Jade partners with a variety of skincare brands, and links back to the ecommerce stores that are selling them.
Image via Instagram
This UK-based skincare aficionado is one of the best skincare influencers on Instagram. Though he has a larger audience on Facebook, his Instagram influence is nothing to turn up your nose at.
His videos cover everything from exfoliation to moisturization, and his perfectly glowing skin is proof of the success of his routines.
He gives his audience step-by-step skincare routines, explaining each product and its contents.
Additionally, he shares his honest experience with each product, or combination of products, and talks about their pros and cons openly.
James does lots of reaction videos for his Facebook and YouTube fans where they get skincare tips and best practices.
He has worked with skincare brands such as Keys Soulcare, Fenty, and Purito.
Image via Instagram
Victoria is one of the finest skincare influencers on Instagram, charming her audience with her always-bright videos and pictures. She teaches everything glamor, from skincare routines to how to get the latest makeup looks.
With her bubbly personality, this talented makeup artist takes her fans through how she achieves her glamorous looks, including all the skincare products she uses and their sources.
Besides skincare, she also shares hairdo-related hacks that complement her content. Her material is vibrant, with colorful backgrounds and crisp videos and images.
She uses a range of products from different manufacturers and offers numerous product recommendations to her fans.
Some of the skincare products she has reviewed include Miracle Water from IT Cosmetics and Evening Google Eye Masks from Vitamasques.
Image via Instagram
Arshia is an Indian-American mom who shares her life with her Instagram family. She regularly shows her fans her own make-up and skincare routines and is one of the most popular skincare influencers on the platform.
But what makes her one of the best skincare influencers of color?
The reason is simple—she shares her life in a way that makes her audience feel like they're a part of it. She shares content about her Indian cultural experience, for example, from dress codes to food, her baby, and beyond.
With that openness comes trust and a deep sense of loyalty.
Her audience is also diverse. She has makeup tips for her Indian-American audience as well as tips for all skin types.
She has also partnered with beauty brands such as Lancôme and Fresh.
Image via Instagram
Shamili's Instagram account is the ultimate skincare guide for all natural beauty enthusiasts.
On the guides section of her Instagram page, she posts a variety of skincare routines that she recommends to her fans. This is what sets her apart from all the other skincare influencers on Instagram, especially micro-influencers.
Most of her posts are dedicated to skincare, which makes her the best influencer out there for different lines of skincare and beauty products.
She also has a lifestyle blog where she posts about beauty, skincare, and travel. This expands her reach beyond Instagram and gives her audience a wide variety of content.
She works with many beauty partners and retailers including Sand and Sky, Nécessaire, and Tatcha.
Image via Instagram
Shani is an esthetician and skin expert. A mother of two, she has her own skincare line that sells both skincare oils and equipment. That's precisely why she's one of the most popular skincare influencers on Instagram.
Her Facial Sculpting Wand is popular among her fanbase. She posts videos of not only herself, but also of other people who've used her products.
Doing this proves the effectiveness of her skincare line among her audience and customers.
Teaming up with a skincare influencer like her on Instagram for a brand ambassador partnership can help you reach a wider audience and add to the dependability of your brand.
She also has a medical background, so her audience trusts her tips and nuggets.
In the past, she has partnered with brands like Supergoop.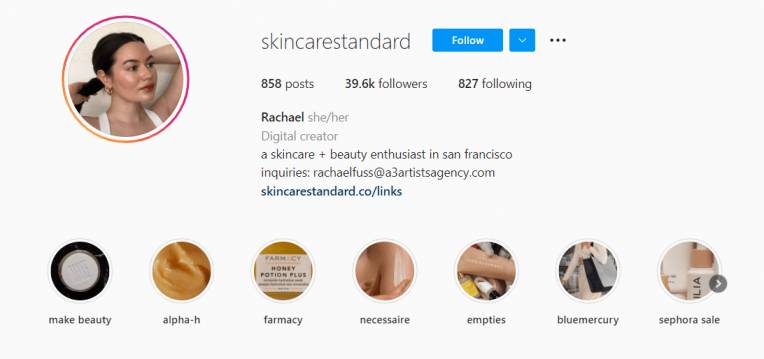 Image via Instagram
Rachael is a San Francisco-based skincare influencer on Instagram who enjoys sharing skincare tips and products with her audience.
She partners with skincare brands such as Alpha-H to show her audience how she achieves her natural glow.
She's one of the best skincare micro-influencers on the platform and has a highly-engaged follower base who swear by her recommendations.
Image via Instagram
Sian Maggs is a skincare enthusiast and blogger on Instagram. Besides skincare, she also shares content related to makeup, haircare, and more.
Her Instagram fanbase also gets a peek into her personal life through her posts of her family and major personal milestones.
Her skincare journey as a mom and all the challenges she faces are part of what help her audience relate to her, making her one of the best social media influencers in the niche.
She has partnered with skincare brands such as Perricone MD, Cosmedix, and Revita Skin.
FAQs
1. How do you become a successful skincare influencer on Instagram?
Three words—passion, consistency, and personality. To become a successful skincare influencer on Instagram, you have to be passionate and knowledgeable about skincare. Sharing this passion drives the audience to your page.
Then, be consistent in producing content. While you're at it, let your own personality and style shine through. Eventually, widen your reach on other platforms to reach an even bigger audience.
Lastly, ensure that every piece of content provides a high level of value to your audience. Each of your posts should do one of three things for them: entertain, educate, or impact.
2. Who are the top skincare influencers?
Some of the top skincare influencers are:
Renée Chow
Jade Marie
James Welsh
Victoria Lyn
Arshia Moorjani
Sharmili
Shani Darden
Rachael
Sian Maggs
3. Who is the most successful Instagram beauty influencer?
Huda Kattan is the most successful Instagram beauty influencer with a current following of 49.9 million on her Instagram account.
4. Who are the top beauty influencers in 2022?
The top three beauty influencers of 2022 are Huda Kattan, Nikkie Jager, and James Charles.
5. How do you become a skincare blogger on Instagram?
To become a skincare blogger on Instagram, you need to pick a name that stands out. Then start creating and publishing impactful and value-adding content related to skincare.
Make sure your focus is to add value to your audience whether that's solving your audience's problems through education, entertaining them with creative tutorials, or impacting them with stunning before and after makeovers. And where possible, share your own experiences with the products you intend to recommend.
Ready to Connect With Your Next Skincare Influencer on Instagram?
If you've got skincare products to promote, these skincare influencers could prove to be great partners for your campaign.
The best part?
Some of them are micro-influencers, so partnering with them won't be too heavy on your marketing budget.
Feeling stuck? Reach out to us and our team will help you get started!